Trusted Pest Control Services In Bettendorf, IA
A central transportation hub in the area, Bettendorf is a sought-after location for its high quality of life, excellent schools, and strong sense of community. With a vibrant downtown area, a wide choice of restaurants, shops, and cultural venues, as well as several parks and recreational facilities for nature lovers, it is a great place to work and raise a family.
From playing the slot machines at the Isle Casino Hotel Bettendorf to running and biking along the Quad Cities Waterfront with beautiful views of the Mississippi River or visiting the Family Museum and its interactive exhibits and programs that focus on science, technology, engineering, and math, there is something for everyone.
But with its hot summers and freezing winters, our area is also a hub for pests like bed bugs, ants, rodents, overwintering invaders, and more. If you are struggling with an infestation, Pest Control Consultants provides pest control in Bettendorf to eliminate it for good.
Home Pest Control In Bettendorf, IA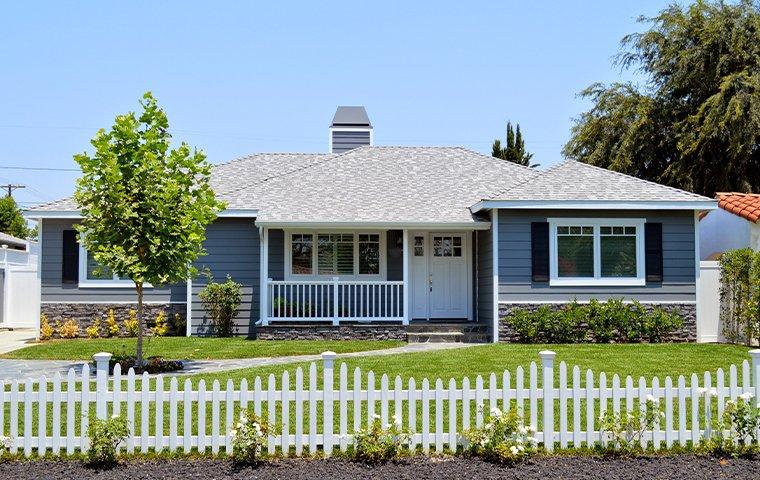 When your home is no longer safe and is the target of pest infestations, it is time to act. Your household can be at risk of bacterial contaminations and bites, and pests can also cause issues to the structure of your home.
At Pest Control Consultants, we understand that you want pest infestations eliminated swiftly and safely. To achieve this, we prioritize inspections and prevention strategies, eco-friendly treatments, and regular training for our licensed service members to avoid pest problems.
Contact us today to schedule a home inspection and learn more about our residential pest control services, including mosquito, termite, tick, and advanced rodent control, as well as one-time treatments or recurring plans.
Commercial Pest Control In Bettendorf, IA
Keeping your business free of pests should be a priority, but it should not get in the way of running your business efficiently. If you are dealing with unwanted invaders on your commercial property, it is essential to work with professional licensed service members who can eliminate them before they affect your business.
Pests can harm businesses in many different ways. Cockroaches and wasps can chase customers away immediately, while rodents and termites can make your property unsafe and cause costly damages. Many pests can also make you and your employees sick.
Call us today to schedule an inspection and find out how we can tailor our commercial pest control services to the unique needs of your business.
Five Practical Termite Control Tips For Homes In Bettendorf
Termites are a great example of a pest that is far easier to prevent than treat. The following five practical termite control tips can help keep you safe from these destructive insects:
Keep wood away from your home: Because termites feed on wood, it's essential to keep it away from the structure of your house. Keeping firewood and lumber several feet away from your home and keeping your yard clean of branches and debris is a good way to minimize your risk of termites.
Remove moisture sources: Like many pests, termites thrive in moist environments. It's essential to remove any sources of moisture in and around your home, including fixing leaky pipes and clogged gutters and ensuring proper drainage around your foundation.
Seal cracks and gaps in your home: Termites are tiny and can enter homes through small cracks and crevices. Sealing these areas around pipes, vents, electrical wiring, and in the foundation and walls of your home is vital to prevent infestations.
Consider baits and wood treatments: While these treatments are a practical and effective way to control termites, you must use them properly. A professional pest control company can help you treat your home safely.
Schedule regular home inspections: Inspections can effectively identify and prevent termite infestations. From mud tubes to wood damage, there are many signs of termite infestations that a professional can catch early on when treatments are quicker and less costly.
At Pest Control Consultants, we can eliminate infestations and prevent them from returning with the most effective termite treatments available. Contact us today to schedule an inspection and learn more about our services.
What Health Problems Can Mosquitoes In Bettendorf Cause?
Mosquitoes kill more people worldwide each year than any other animal, and the United States isn't immune to the problems they can cause. In Bettendorf, mosquitoes can transmit diseases like the West Nile virus, dengue fever, and the Zika virus, which can cause symptoms like fever, headache, and other flu-like symptoms, and in some cases, more severe illnesses or even death. Additionally, mosquitoes can transmit heartworm to dogs and cats.
At Pest Control Consultants, we strive to provide the most effective mosquito control treatments to keep you and your household safe. Our process starts with thoroughly inspecting your property to look for breeding and resting sites and determine which treatment strategies will be most effective, from one-time services to monthly misting.
If you are done dealing with pests of all kinds in and around your home, it is time to eliminate them and prevent them from coming back. Call us at Pest Control Consultants today to find out how we can make your property safe again from wood-destroying insects, dangerous scavengers, and vectors of diseases and prevent them from returning.
Bed Bug Control Tips For Bettendorf Homeowners
In order to keep bed bugs out of your Bettendorf home, try these easy bed bug control tips:
Inspect used items. One of the most common ways that bed bugs spread is through secondhand items such as furniture, mattresses, and appliances. Before bringing any of these items into your home, check them thoroughly for signs of bed bug activity. It's also important to try to gather as much information about them as possible to determine the kinds of conditions they were previously exposed to.
Be a conscientious traveler. Bed bugs can thrive in hotels, so when traveling, store clothes in a sealed baggie and use luggage stands to keep your bags off the floor. Upon returning home, wash clothes thoroughly and dry them on the highest setting.
Have a watchful eye. It's also important to be scrupulous when spending time in public places, as it's very easy to pick up bed bugs in places such as restaurants, movie theaters, schools, public transport, and medical facilities.
Make cleaning a regular habit. Vacuuming your home on a routine schedule may help to slow the spread of any potential bed bug outbreaks.
Seal off entry points. Bed bugs can move from one property to another, so homeowners may want to insert door sweeps and fill crevices in foundations with caulk. This can be especially helpful for people who live in multi-unit housing.
Seek professional help. The most effective solution to dealing with bed bugs is to enlist the help of a trained pest professional. They will have access to reliable methods and extensive experience.
For more information on bed bug control in Bettendorf, call Pest Control Consultants today.
Why Disinfection Services Are Important In Bettendorf
Keeping a Bettendorf property clean can be an uphill battle given the number of things that can happen throughout the day. Professional disinfecting services are available for locals and they come with many benefits:
Protection from health risks: One of the most significant benefits of professional disinfecting is the elimination of many harmful pathogens. People who enlist these services may get protection from E. coli, streptococcus, salmonella, and many other pathogens.
Ensure efficacy: By working with experts, people are ensuring that they are receiving access to advanced training, top-shelf products, and proven methods that will work swiftly to protect them.
Save time and money: These services will also free up people's time so that they're not aimlessly cleaning and wasting money on products that might not be safe or effective.
Less work overall: Professional disinfecting can create a baseline of cleanliness and also reduce the amount of cleaning that people have to do between visits.
At Pest Control Consultants, we offer thorough cleaning services that address everywhere from doorknobs and furniture to plumbing and flooring. We always use safe products and never miss a spot. For more information on professional disinfecting services in Bettendorf, please call us today.
Six Simple Ways To Deter Ants In Bettendorf
Ants in Bettendorf are one of the most frequent visitors to properties, it can seem like ants are everywhere. In order for locals to keep these pests out of their homes or businesses, these six easy-to-follow tips may prove helpful:
Limit areas of food consumption. One of the most enticing things for ants is food in its many forms. Unbeknownst to most people, they leave behind crumbs and traces of food when they eat. That said, it may prove helpful to limit the number of places where food is consumed so that the home is easier to clean.
Pay attention to trash. Garbage is also a big factor behind ant infestations, so paying attention to what gets thrown out and how long it sits is something homeowners should take into consideration. Avoid leaving discarded food in the trash for extended periods of time and always rinse out cans and jars before recycling them. Make sure that bins are properly lined and have lids. Clean out trash receptacles between uses if there're signs of food residue.
Fix water issues. Moisture can also attract ants, so keep downspouts flowing, shut sinks off after using them, and rectify leaky plumbing.
Make cleaning a habit. Disinfecting bathrooms and kitchens on a regular basis can also work to eliminate factors that lure ants into homes. Pay attention to soap spills, as ants can easily mistake these substances for food.
Look for entry points. Ants can find their way through most openings, so assess your home's foundation for any gaps or crevices. Caulk may be helpful in filling these areas, and replacing window screens may add an additional layer of protection.
Work with a professional. Consider seeking professional services for year-round treatments that can deter ants or eliminate active problems.
For more information on ant control, call Pest Control Consultants today.
Professional Spider Control In Bettendorf Made Easy
Spiders can be lured into Bettendorf properties very easily. They are often searching for food, which comes in the form of other pests. If there are any gnats, ants, or cockroaches around, spiders might be on their way. Spiders are also lured by dripping pipes, other moisture issues, and the promise of shelter. This combination of factors can make preventing them a challenge and getting rid of them even harder.
At Pest Control Consultants, we have been providing effective spider control solutions for more than 30 years. Each of our technicians is thoroughly trained and has the latest methods and treatments available for their use. Our treatments combine Integrated Pest Management methods and exterior barrier applications in order to deliver the most impactful results. And because we know how common spiders and their prey are, we include coverage for them in our Home Protection Plan.
Customers will benefit from comprehensive inspections that look at both the inside and outside of the home. Once we have the pertinent information, we can move forward with precise treatments that target the root cause behind spiders and other pests. In addition to the tailored treatments that we provide, we will help homeowners reduce pest attraction with structural modifications and small habit shifts, too. We then return on a quarterly basis for continued protection. This method is a holistic approach that helps us achieve lasting relief for our customers in a sustainable and safe manner. For more information on mitigating exposure to spiders with professional help, call us today.
Request Your Free Inspection
Complete the form below to schedule your no obligation inspection.