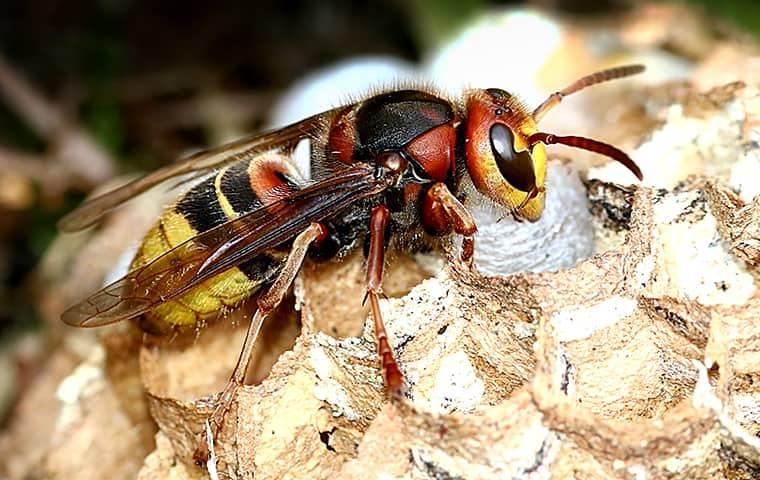 As you may have noticed, stinging insects are back here in St. Charles, Illinois. In fact, they have been back for a while. For many individuals, these unwanted stingers are a reason to stay inside as much as possible, especially if they're buzzing about and building nests nearby. If you are here reading this today, our hope is that your property is currently free of hornet and wasp nests, because we have some solutions, not to get rid of nests, but to keep stingers such as hornets and wasps from settling down.
Why Wasps, Hornets, and Yellow Jackets Thrive in Summer and Early Fall
When the weather is cold during the wintertime, how likely are you to see wasps, hornets, or yellow jackets here in St. Charles? Not likely, right? This is because either they have died off due to unfriendly weather conditions, or they are hibernating while waiting for the weather to heat back up. "What does this have to do with their populations now?", you may ask. Because stingers die off during the colder months of the year and start back up in the spring, it is only natural that as time passes and more nests are built, stingers will grow in population and become more and more of a threat across our state. This is why the late summer and early fall months are when it seems like you can't go anywhere outdoors without seeing a stinger.
Tips to Keep Stingers Away from Your Home
If you do not have a current stinger infestation, these tips are to help keep your property stinger-free through the coming peak of their season.
That being said, here are our prevention tips:
Pick up dropped fruits and berries once they fall from bushes and trees in your yard.
Be careful not to leave pet food or drink bowls out for any longer than your pets need them.
Clean thoroughly after any outdoor gatherings.
Be careful not to pour sweet beverages or throw scraps of food outdoors.
Avoid wearing sweet perfumes when outdoors.
Fill in holes created by other animals in your yard.
Keep an eye out for small start-up nests, as infestations are much easier to stop sooner rather than later.
If you value detracting wasps, hornets, and yellow jackets, more than you value having flowers in your yard, consider removing them as they are major attractants for stinging insects.
Why Call Pest Control Consultants if Stingers Have Already Settled In
Remember earlier when we talked about a solution to stinger infestations that already exist? We were referring to our professional nest removal services. If your property is occupied by dangerous and disruptive stinging insects, we are here to help.

To talk to a professional about your pest control options, give PCC a call. It would be our honor to lend a helping hand.