If mosquito bites and bee stings weren't already enough, get ready for the incessant, itchy bites of these tiny bloodsuckers! Bed Bugs are some of the most notorious uninvited guests here in St. Charles. While bed bugs do favor the warmer months of June through October, these creatures do not have a 'season' like other pests. In fact, bed bugs are technically a year-round pest due to their indoor living environments.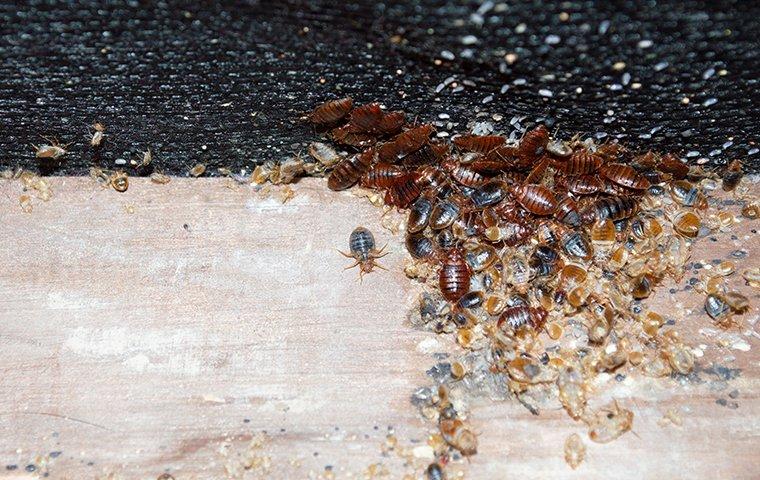 You will never come across a group of bed bugs in the wild or out in any natural space unless transported by a living host. Instead, these pests live in public environments where they can find a viable food source. You will likely pick up bed bugs in areas such as:
Bus stops and seats

Train stations

Airport terminals and airplanes

Hotels and motels

Public transportation areas
Bed bugs are a frustrating pest to deal with, not only because of their bite but also because of their ability to make themselves at home in any household. Bed bugs are not picky at all and choose hosts simply based on their availability. These insects do not require large amounts of humidity, excess food crumbs, or even a dirty home to thrive. Rather, the pests only need a warm body and a good hiding place.
Once they find a place where they're comfortable, they will begin to breed rapidly leaving you with a bed bug problem that's quickly out of control.
Bed bugs are not impossible to see, and if you discover an infestation early on, you may be tempted to exercise DIY pest control methods to eliminate their population.
Why St. Charles Homeowners' DIY Bed Bug Control Fails
DIY bed bug control sounds great on paper, but these methods are usually expensive and disappointing in reality. This has to do with the simple truth of treating symptoms rather than causes. Unfortunately, DIY bed bug control suffers for the following reasons:
Expensive: Certain DIY treatments are prohibitively expensive, costing upwards of $100 - $300! When they don't work, you wind up paying this fee again and again.

Ineffective: At the end of the day, DIY treatments treat symptoms, not infestations. Don't mistake a lower number of bed bugs for a cured infestation. In fact, if you don't kill every last bed bug, you will continue to have a problem. Bed bugs that feel threatened will lay dormant for months only to eventually reemerge as a larger problem.

Dangerous: Some DIY pest control methods are hazardous to your health, the health of your family members, and the safety of your pets, especially if you don't execute treatments properly.
To determine the extent of your bed bug infestation, or to speak with professional consultants about your immediate pest needs, schedule your free home inspection through Pest Control Consultants right away.
Protect What's Yours With The Pros At Pest Control Consultants
Bed bugs are one of those no-joke household pests that just keep coming, no matter how much you try to clean them away. No amount of bed washing, vacuuming, or essential oils will be able to clear out a truly rooted infestation. Some amount of the population may be abated, but certainly not all of it. This makes bed bugs one of the most difficult and irritating pests to treat in a home. When infestations do arise, homeowners need help from the professionals.
That's why dozens of St. Charles residents trust the experts at Pest Control Consultants when faced with a bed bug infestation. With three generations of experience, we know how to do things the right way. We begin by thoroughly inspecting your home and coming up with a customized plan for successful bed bug extermination. Bed bugs are tough, but we're even tougher. We will ruthlessly fight back against any infestation leaving you with a home that's free of these stressful pests.
If you suspect bed bugs in your home, contact the trustworthy professionals at Pest Control Consultants immediately. Visit your local St. Charles branch to schedule the bed bug treatment program that's right for you, or contact us virtually via phone or our no-obligation contact form. We don't just treat your home, we offer solutions that work - guaranteed!