If you have a home in St. Charles, mice have probably already visited you by now. They may have been just passing through, but they did take the time to quickly investigate your property. That's how common area mice are. Mice that pass on by are not your big concern, however. Mice that take a look, like what they see, and actually decide to stay are the problem. That is, they are your problem. Once mice make their way into your home, they can begin a process that ultimately leads to a large infestation, one that can potentially cause a great amount of damage to your home and potentially even affect your health.
Don't let mice come into your house and threaten your health or damage your property. Pest Control Consultants can be your local expert company for pest control in St. Charles. Call us; we know mouse control.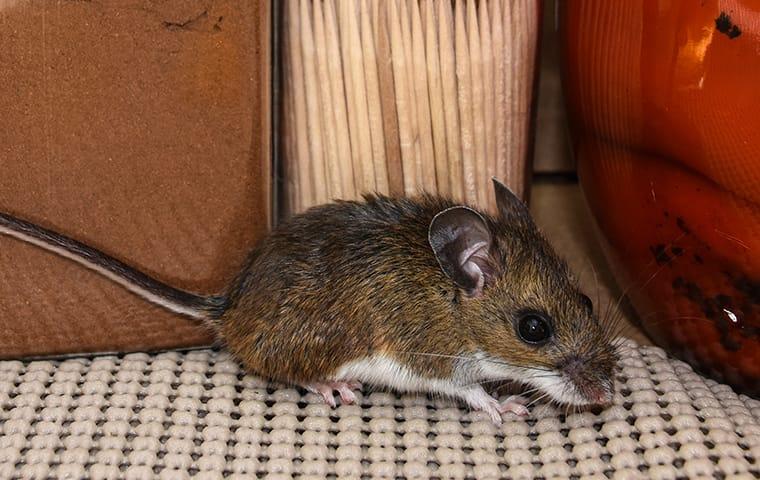 What Do Mice Look Like?
Mice are small, furry, and four-legged. They have small, black eyes, comparatively large ears, and long tails. In fact, a mouse's tail is almost as long as the rest of its body. Mice are wary pests and will try to hide the minute they see you. If they feel they are in danger, mice will seek to escape by running as fast as possible, moving to a different area.
Mice are small and fast breed rapidly once they get into your home. Pest Control Consultants understand the risks, and we want to help. We know how to get rid of mice and will get rid of yours. Call us today for all of your mouse control needs.
How Dangerous Is It To Have Mice In My House?
Mouse infestations present two major problems for homeowners. The first problem is potential damage to your home. Mice love to chew on things and are the number one pest that damages cables and wires in homes. They often damage cables and wires behind walls, leading to expensive repairs. The second problem with mouse infestations is that they can potentially track diseases into your home. Mice love to forage in sewers and garbage and can pick up things like salmonella, E. coli, hantavirus, and leptospira. When they come into your house later, they can track all of this onto your food stores, countertops, dinnerware, armoire drawers, and furniture. You don't even have to come into direct contact with mice for them to spread diseases to you. In fact, you can get a mouse-born disease without ever seeing a mouse.
Do not let mice threaten your health and potentially damage your house. Pest Control Consultants knows all about mouse extermination and mouse prevention. Call us today to see how we can help you clean up mice.
Why Won't Mouse Traps Get Rid Of The Mice?
Mice are wary pests. Any disturbance in their environment will alarm them and cause them to change their behavior. If mice see a dead mouse in a trap, it is enough to get them to do so. Mice are also free-ranging creatures, and most DIY efforts will wrongly only target places of obvious mouse activity while at the same time missing all of the other, unseen mice. You may be encouraged by the fact that your DIY efforts have eliminated a few mice, but you can be very frustrated soon after you discover that the mouse infestation is still active.
Do not try to puzzle through all of the aspects of mouse control in your home. Our technicians know the best way to get rid of mice in every situation, and we also know how to keep them away.
How Do I Get Rid Of Mice in My House?
The hands-down best way to control mice in your home is to secure professional pest control the minute you see a mouse. Mouse infestations are much easier to manage when controlled early on, and a professional pest control service is much more likely to perform an effective eradication the first time around.
If you have a mouse infestation in your St. Charles home, don't waste time, money, and energy trying to unsuccessfully control them yourself. Instead, call Pest Control Consultants. We have a long history of great success when it comes to mouse infestations, and we want to share that with you.