Trusted Pest Control Services In Davenport, IA
With over 50 parks and recreational trails, Davenport is where you go when you want to enjoy nature! Being surrounded by beautiful, scenic nature makes living and working in Davenport an enriching experience. However, all aspects of nature aren't so great. With the presence of nature comes the inevitable presence of pests. Luckily, Pest Control Consultants is here to help!
We're a family-owned-and-operated company that will treat your property as if it were our own. We won't stop working until we resolve your pest problem. We use the most innovative practices, products, and procedures in the industry to provide effective solutions to the pest-related issues you're facing. By combining perimeter defense and Integrated Pest Management techniques, we protect your health and your property. We also provide a positive customer experience that lets you know you're valued, earning your return business and referrals in the process.
Pest Control Consultants has served this community proudly for three generations! With a value-driven and service-oriented approach, we successfully provide Davenport pest control services that work. All of our technicians are highly qualified, well trained, and meet top-notch industry standards. We bring this high-quality service to you in a timely manner and are happy to help with same-day service. Our experts are only a call away!
Home Pest Control In Davenport, IA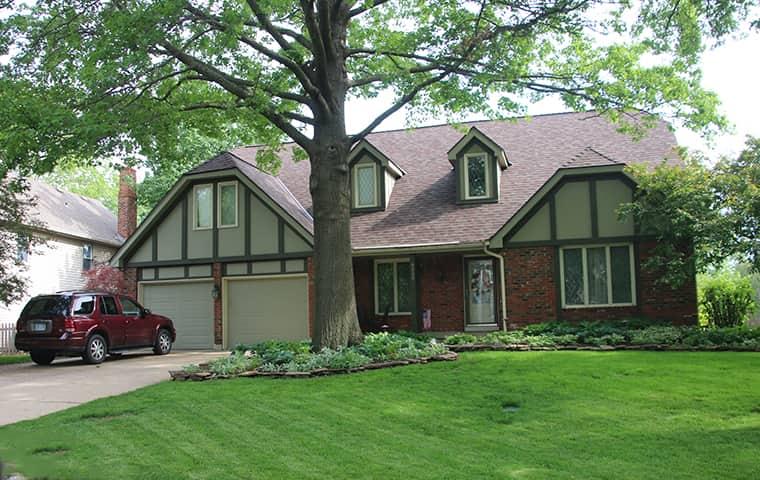 When you call us and tell us what you're seeing around your house, we'll let you know what type of pest you're most likely dealing with. Then, we'll come out to meet you that same day! We promptly answer your call with action. No matter what type of pest you're dealing with, we'll start the process to get your home pest-free again with same-day residential pest control help.
Some common pests are the most likely culprits to your problems in Davenport, and we specialize in treating properties for all of them! If you need home pest control services, you're probably dealing with one of the following:
Ants (pharaoh, odorous house, carpenter)
Spiders (wolf, brown recluse, cellar)
Stinging insects (bald-faced hornets, German yellow jackets, bees, wasps)
Bed bugs
Centipedes
Millipedes
Crickets
Earwigs
Mice
Termites
If any of these pests have invaded your home, you'll be able to see some signs! When you do, call on us for same-day service that takes care of pests quickly and effectively.
If you keep finding pests popping up, we're here to help end the cycle in its tracks. We offer a Four Season Protection Plan that provides ongoing service, treatment, prevention, and protection for your home. Call us today for more details about this affordable and important service plan!
Commercial Pest Control In Davenport, IA
If you need commercial pest control services, our confidential consultants will take care of the problem. We'll get rid of pests before your company's reputation suffers. We're well-versed in catering to all types of businesses, including:
Hotels
Apartment complexes
Group homes
Assisted living homes
School districts
Hospitals
Daycare centers
Restaurants & bars
Industrial buildings
We offer affordable and conveniently scheduled quality commercial pest control services, so you don't need to worry continuously about the problem. Bring us out for same-day service by giving us a call today!
Four Signs Of Bed Bugs In Your Davenport Home
If you find that you have bed bugs, you need bed bug control right away! These little pests reproduce rapidly and can take over properties in record time. The sooner we get on the case, the sooner we can solve it. With that said, here are four key signs to watch out for that'll let you know if you have bed bugs in your home:
Reddish-brown fecal spots
Bed bug bites in clusters or lines of small, red, & itchy welts
Eggs, egg shells, or molted skins
Musty odors
Call Pest Control Consultants for same-day service if you notice any of these signs! If bed bugs are indeed the tiny culprits causing these issues, we'll provide your property with an effective bed bug treatment that'll return your home to its pest-free state once again.
The Best Way To Disinfect Your Business In Davenport
When you need to disinfect your business, Pest Control Consultants is here to help! We're a local small company that understands your needs as a business owner. By valuing your issues and customizing our disinfecting service to your specifications, we care for your unique property in the way you see fit. We leave no corner untouched, ensuring that every surface in your property is clean and safe for employees and customers alike.
If you've had pests on your property, getting rid of them is just the first step. We're here to see the entire process through! We offer our premier disinfecting service to eliminate bacteria, fungi, and viruses that can make you ill. Our disinfecting service will restore your indoor environment to high-quality condition. Keep your health and safety standards above par by relying on Pest Control Consultants to remove all contaminants that pests leave behind.
Once we've catered to your property, you won't have to worry about any issues arising from the presence of pests. You'll have peace of mind knowing that your entire property is thoroughly disinfected. Give us a call to schedule your appointment for this service today!
Sure Signs Of A Termite Problem Around Your Davenport Home
Spotting termites around your Davenport home can be tricky for a variety of reasons. These pests are masters at invading wooden structures and working in undetected ways. Termites are capable of entering homes through foundations and can proceed to eat away at the wood around your property all day due to their voracious appetites. The damage that termites cause can take place over time, which only makes determining the presence of an infestation more difficult. Here are some of the sure signs, however, that often point to a termite problem:
Windows or doors that jam
Termite swarmers around the home, which are winged reproductive members looking to start their own colony
A soft scratching sound coming from inside of your walls
Bubbling wallpaper
Uneven or peeling flooring
Walls that sound hollow when you tap them
Piles of discarded wings
Presence of mud tubes on the exterior of your foundation
Frass, which is termite excrement that resembles sawdust
If you notice any of these signs, the best thing you can do is contact Pest Control Consultants. We have been the area's trusted termite experts for more than 30 years.
Our services always begin with a comprehensive home inspection to understand the range of your termite problems and identify the species that's present. From there, we'll use the treatment that's right for you, which may involve pheromone applications, Termidor®, or Bora-Care® for new construction. We provide a one-year warranty on all of our termite services because we know they'll work for you. For more information on termite control in Davenport, please call us today.
The Many Diseases Mosquitoes Are Known To Spread In Davenport
Mosquitoes are seasonal pests for people who live in the Davenport area. They are drawn out by warmth and humidity and stick around due to the promise of human blood. Females require it in order to lay their eggs, which can leave people covered with itchy bites. While these bites can often be harmless, sometimes they can be much more serious. If a mosquito has fed off of a diseased animal, such as a bird, then they have the potential to transmit hazardous pathogens to people and their pets. Some of the health risks that local mosquitoes are associated with include:
West Nile virus
Heartworm
Tularemia
Eastern equine encephalitis
There are other health issues associated with mosquitoes across the globe, such as Zika and dengue fever; however, those are not prevalent issues in this area. In order to limit exposure to such health risks, locals would benefit greatly from professional treatments.
At Pest Control Consultants, we provide detailed treatments for mosquitoes on a seasonal basis. Our service starts by assessing properties for both resting and breeding sites. We use this information to inform our treatments and provide customers with tips on how they can reduce conducive conditions between our visits. Our service typically consists of targeting these areas with our backpack mister in order to reach every nook and cranny. These treatments will address both adult mosquitoes and their eggs. We usually suggest monthly service for uninterrupted protection, but we also offer one-time visits for special occasions and gatherings. For more information on mosquito control in Davenport, call us today.
What Is Attracting Wasps To My Davenport Property?
If you've noticed wasps around your Davenport property, you're not alone. These pests are a common issue for locals and can prove to be dangerous, given the circumstances.
Here are a few things that might be luring them to your yard:
Food: These stinging insects are constantly seeking sweet or sugary substances, which your trash may likely contain. This is why it's very important to be diligent about trash collection and disposing of garbage securely. If you're hosting outdoor gatherings, wasps may also be attracted to any desserts that you've left uncovered or greasy grills that need to be cleaned.
Old nests: Wasps will often return to their old nests each season to determine if they are still viable. Though wasps won't use the same nest twice, if they are still in good condition, then it lets wasps know that the property will be hospitable to them.
Flowers: Budding plants and fruit trees are some of the most enticing factors for wasps. They like sugary flowers like marigolds, as well as flowers that are either purple, blue, or white.
A place to shelter from bad weather: Wasps may also be drawn to properties that offer them places to take shelter during the wintertime. They overwinter in homes that deliver preferable conditions where wasps won't be disturbed.
Happenstance: It's also very common for wasps to end up on a property like yours because they hitchhiked in your car or personal effects. There might be no obvious answer because you were unaware of bringing them home altogether.
For more information on wasp control, call Pest Control Consultants today.
How Do I Get Rid Of Mice in Davenport?
The mice in Davenport are tenacious, to say the least. These small nocturnal animlas are often in search of food, water, and shelter, which your home likely provides them without your knowledge. Mice are capable of sneaking through the smallest gaps that are no bigger than the size of a dime. They can also simply walk through a garage door or bulkhead that you've innocently left open and unattended. If you continue to provide mice with the things that they need, they are very unlikely to leave your home. And given their ability to reproduce eight times a year, infestations can quickly grow out of control.
If mice have become an issue in your home, Pest Control Consultants can help. We have been helping local homeowners address mice problems for over 30 years. Our technicians are all expertly trained and use proven methods to create lasting relief from mice. We include coverage for mice in our Home Protection Plan in order to make sure that you are protected from these pests throughout the year.
Our program is based on Integrated Pest Management methods in order to achieve the most environmentally friendly and sustainable results possible. We incorporate detailed property evaluations with habitat modifications and exterior bait stations for a multifaceted approach. In order to ensure a complete lack of mice, we'll return to your home on a quarterly basis to check on treatments and address any issues that may have developed. For more information on mouse control, call us today.
Request Your Free Inspection
Complete the form below to schedule your no obligation inspection.