Complete Pest Control Services In Lake Zurich, IL
Location less than 40 miles northwest of Chicago, the charming village Lake Zurich, IL, is an ideal place to live. It offers residents and visitors exciting lakeside activities and there's always adventure to be had. One adventure that no one wants to experience, however, is that of a pest infestation. As unfortunate as it is, all Lake Zurich properties are vulnerable to pest infestation, and that poses a lot of risks for you and everyone else on your property. If you're looking for professional coverage from infestation, look no further than the team at Pest Control Consultants.

Our family owned business provides trusted pest control services to homes and businesses throughout Lake County and the surrounding areas. We use proven IPM (Integrated Pest Management) strategies and preventative treatments to protect residential and commercial properties from the dangers of infestation. Whatever kind of pest pressure you're dealing with, you can count on us to help. Contact us to schedule your free inspection.
Residential Pest Control In Lake Zurich, IL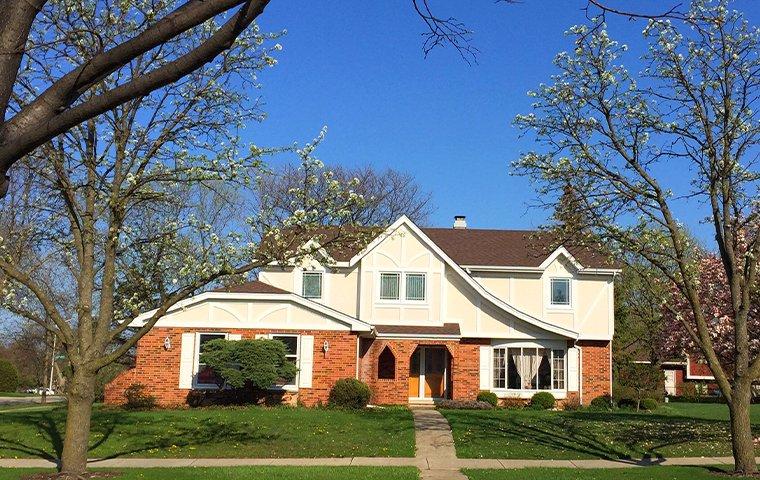 If you own a home in Lake Zurich, it's extremely important to guard your property from infestation. Pest infestation is a real nightmare for homeowners, and that's why we're here to help. Our residential pest control services offer comprehensive protection from over 40 common, home-invading pests. Some of the local pest we deal with include termites, spiders, rodents, mosquitoes, fleas, ticks, cockroaches, ants, and many others. Our home treatment plans are carefully developed depending on the needs of your property.
Guardian Protection Plan
Covers over 40 common home-invading pests

Four service visits per year

Interior guarantee

Exterior perimeter pest defense

Insect protection

Exterior web and nest removal

Guardian Advanced Protection Plan
Covers over 45 common home-invading pests

Guardian Protection Plan services +

Rodent bait stations
Preferred Protection Plan
Covers over 50 common home-invading pests

Guardian Advanced Protection Plan services +

Five tick and mosquito treatments between May & September

Yellow jacket ground nest warranty

Interior flea warranty
With over 3,500 satisfied customers across the Chicagoland region, you can count on our lasting results and pest-free guarantee to bring you the protection you're looking for. Contact us today to hear more about our Guardian Protection Plan, as well as our Guardian Advanced and Preferred Protection Plans.
Commercial Pest Control In Lake Zurich, IL
In order to prevent pests from ruining your Lake Zurich business, it's crucial to get help from the pros. PCC offers dependable commercial pest control services to a wide variety of properties, such as healthcare facilities, schools, warehouses, restaurants, hotels, and many others. Our treatment plans are strategically developed to fit the specific needs of your facility, making sure your business is thoroughly protected all year long. No matter the nature of the infestation, we have the solutions to your pest problems. Contact us today to schedule your free inspection, our 100% service guarantee promises lasting results you can rely on.
What Is The Best Way To Control Bed Bugs In Lake Zurich?
Bed bugs are parasitic pests that pose a year-round threat to Lake Zurich properties. These unwelcome intruders spread quickly, leaving you with a full-blown infestation in the blink of an eye. If you want to reduce your chances of experiencing bed bug infestation, it's a good idea to be as proactive as possible. Here are some tips for controlling bed bugs around your Lake Zurich home:
Check items for bed bugs before bringing them inside.

Reduce clutter around the home.

Steam clean upholstery, curtains, and carpets/rugs.

Use mattress and box spring encasements.

Wash & dry all linens, bedding, and clothing on high heat.
While the suggestions above can certainly help, the absolute best bed bug protection you can secure is from a team of experienced experts. Pest Control Consultants offers complete bed bug detection and extermination services that guarantee you a safe, pest-free property you can feel good about. Contact us for your free estimate.
Four Ways To Get Rid Of Mice On Your Lake Zurich Property
Your home or business is the last place you want to find mice running around; however, it's not that uncommon here in Lake Zurich. Not only can mice spread germs and cause contamination, but they can also cause serious damage to your property. That's why it's important to get ahead of the problem. Here are four ways to control mice on your property:
Get rid of any excess moisture and water sources.

Keep food properly stored in gnaw-proof containers.

Remove any wood piles and yard debris.

Store trash outside in a tightly sealed metal container.
In the end, the best protection you can secure is ongoing pest control services from the pros. The experts at Pest Control Consultants have extensive experience dealing with mice, and we have the knowledge and expertise to eliminate them from your Lake Zurich property complete. Reach out to us to learn more.
Message To Our Customers
We are pleased to announce that Pest Control Consultants has joined forces with Rise Pest Control. Pest Control Consultants is a local family owned and operated company that has been serving the Chicagoland and surrounding areas for the past 20 years. PCC prides themselves in their effective and efficient services but also In their small town touch! You can be sure our team will strive to make this transition as smooth as possible, and ensure your pest control needs are well taken care of! Thank you for taking the time to let us introduce ourself to you, we look forward to serving you in the future! As always if you have any issues or concerns with your service don't hesitate to email or call.
Request Your Free Inspection
Complete the form below to schedule your no obligation inspection.