Termite Control For Illinois, Iowa, And Wisconsin Homes & Businesses
When it comes to dealing with termites, taking preventative steps against them is always the best plan of action. When these destructive pests invade, they'll eat away at the wooden structures within your home. Over time, as their colony grows larger and larger, those termites will cause extensive damage to your home, potentially even weakening the support structures in your home. Needless to say, these are pests you definitely don't want hanging around. Whether your home is currently termite-free or if you already have an infestation, the team here at Pest Control Consultants can help. We offer a variety of pest treatment and prevention options in St. Charles to meet all your termite control needs!
Our Termite Control Offerings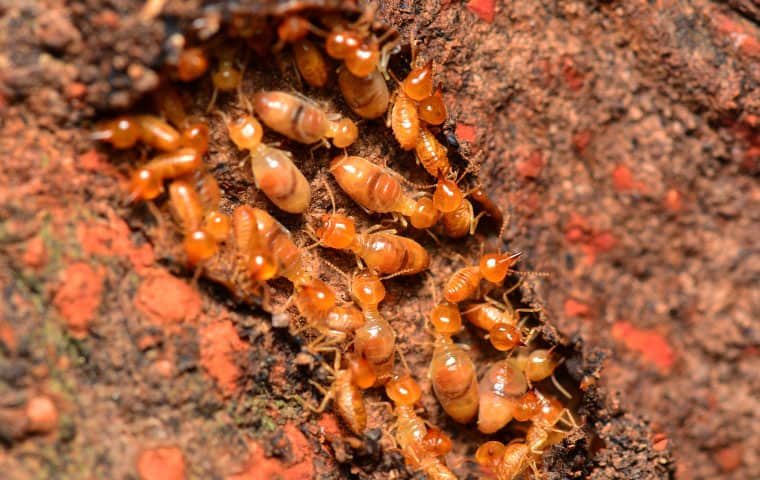 Termite Inspections
At Pest Control Consultants, each of our termite treatment plans begins with a thorough inspection of your home and property. It's important to establish whether or not you're dealing with a current termite problem on your property before we choose a treatment plan as this information will enable us to recommend you the best treatment options for your specific situation.
Termite Control Treatments
Termidor® Liquid Treatments
This product is applied around the perimeter of your foundation walls and clings to the surrounding soil, creating a continuous barrier of protection around your home. And since it's completely undetectable to termites, they'll cross this barrier, picking up the Termidor® as they go and carrying it back to their colonies. This will eliminate both the worker termites and their entire colony.
Pheromone Treatments / In-Ground Termite Baiting & Monitoring
With pheromone baiting treatments, we use the termites' natural trail-marking tendencies against them. With this service, monitoring stations are installed into the ground. When a termite finds the station and begins to eat the bait inside, it will mark a trail to it for other termites to follow. Our technicians will then be alerted to activity at the monitor, and can then place bait there that will be eaten by the termites and brought back to their nest. This active ingredient in the bait will then eliminate the entire colony.
Boracare Treatments
Best used in new construction, Boracare treatments will protect your home right from the start. Boracare is a liquid pre-treatment that is applied directly to unfinished wood. This treatment doesn't break down over time, making it a perfect long-term treatment option for new buildings or renovation projects looking for termite protection.
Wood-Destroying Insect Reports
If you're buying or refinancing a home, your lender may require that you file a Wood-Destroying Insect Report (WDIR) before they will approve your loan. However, even if they don't, it's wise to get one done in conjunction with your home inspection to ensure that you aren't dealing with a termite infestation in your home. A WDIR is a report that is written after an inspection that specifically looks for signs of damages caused by wood-destroying insects such as termites or carpenter ants has been completed.
At PCC, we proudly offer these inspections and reports. Our technicians have years of experience inspecting for termite damage. We know what to look for and where to look, even in the hard-to-reach places of your home. Once our inspection is complete, we'll write up the report and can send it directly to you or to the person of your choice.
Quality Termite Protection, Guaranteed!
Here at Pest Control Consultants, we're so certain that our termite treatments will effectively protect your home that they come with a one-year warranty. At the end of the year, you can renew this fully transferable warranty if you choose. If you're in need of quality termite control, give us a call today! We proudly offer same-day service and will gladly provide you with a free quote on our termite and WDIR inspections as well as any other services you may need! Our friendly, licensed termite specialists provide termite control services in Sycamore, DeKalb, Dixon, St. Charles, and beyond. To learn more about our St. Charles home pest control and commercial pest control services, reach out to Pest Control Consultants today!
Request Your Free Inspection
Complete the form below to schedule your no obligation inspection.