Trusted Pest Control Services In Wisconsin Dells, WI
There's nothing quite like living in Wisconsin Dells. It's a family-friendly area known for its waterparks, golf courses, and vacation lodging. When entertaining locals and visitors is a critical part of the thriving economy, having excellent pest control services is an absolute must. The most effective way to maintain pest-free homes and businesses is to schedule services with the best pest control in Wisconsin Dells.
Pest Control Consultants is reliable and has top-notch customer service and pest exclusion products and techniques. We take our job seriously and will thoroughly inspect your property to uncover problems. Our technicians follow Integrated Pest Management techniques and apply eco-friendly solutions that are effective and long-lasting.
For towns like Wisconsin Dells, with a lot of foot traffic and visitors alongside locals, pests can spread like wildfire without professional-grade pest control. Retail shops, schools, restaurants, hotels, and homes deserve the best protection from pests.
What can our pest control company, Pest Control Consultants, do for you? Eliminating pests from your home or business isn't convenient or easy, especially when you have bed bugs, cockroaches, or termites. Here are a few solid reasons to get residential and commercial pest control services with us to treat the interior and exterior of your property:
When you let the pros handle pest control, you can focus on running your business and attending to customers instead of fighting pesky rodents or insect invaders.
Get targeted treatments for pests like bed bugs, mice, or rats.
Don't stress about removing webs or insect nests from lofty locations; our techs can do it.
Enjoy peace of mind with fast, same-day service and monthly or quarterly visits for the most effective year-round protection against invading pests.
Staying healthy and maintaining a clean, comfortable space to live, work, or play ensures a higher quality of life. Regular pest control treatments and Integrated Management Pest techniques from Pest Control Consultants can ensure pests stay far away.
Don't wait until a pest infestation spirals out of control, spreading pathogens and damaging property. Call Pest Control Consultants for an inspection and a custom treatment and prevention plan to thwart pesky critters.
Home Pest Control In Wisconsin Dells, WI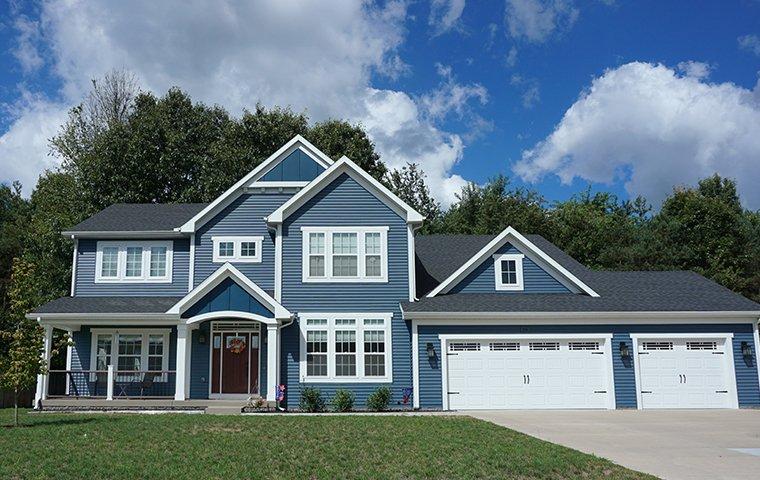 Living in Wisconsin Dells is a privilege, replete with beautiful natural surroundings, freshwater lakes, and family-friendly fun. The food is good, the air is fresh, and there are plenty of things to do and see. All homes, whether vintage or modern, deserve adequate protection from pest-related structural damage. Without a dependable pest control company to deter rodents and insects, it's easy for homes to develop foul odors, insulation problems, and fall into disrepair.
Pest Control Consultants is ready to leap into action and tackle any pesky infestations endangering your home's integrity and personal well-being.
Call the pros for home pest control solutions to chase away pests and keep children, pets, and loved ones safe. DIY solutions and trial-and-error with storebought products won't cut it when wild critters are around the house.
What are some ways scheduling professional pest control and exclusion services prove helpful to homeowners? Discover what professional pest control from Pest Control Consultants can do for you:
Uncover problem areas and target locations where pests find safe harbor.
Feel confident that safe, effective, eco-friendly products control pests and deter future infestations.
Sign up for quarterly follow-up treatments to ensure pest control products and exclusion techniques are working.
Our technicians can help monitor for new threats and signs of re-infestation.
It's unpleasant struggling to capture rodents, safely remove wasp nests or spiderwebs from high places, or remove dead pests and their nests. Indirect and direct contact with pests, their droppings, nesting materials, and contaminated air can prove hazardous to one's health.
Let the experts at Pest Control Consultants come to the rescue and solve your pest problem. Give us a call and get a quote for exclusion services that are safe, effective, and work fast.
Commercial Pest Control In Wisconsin Dells, WI
Every day people rely on the goods and services provided by retail stores, restaurants, warehouses, medical facilities, and schools. Life in Wisconsin Dells would be impossible without commercial properties to house businesses, tenants, and support the local economy. As a family-friendly destination for recreation and relaxation, it's critical to maintain pest-free, clean, safe buildings for commercial use. When there are signs of a pest infestation, or rodents and insects are constantly on the premises, you need quality commercial pest control services.
Pest Control Consultants have the experience and effective products to tackle most pest problems, whether you have a problem with ants, cockroaches, or mice and rats. An infestation of unwanted critters that create nests in entrances, destroy inventory, or create stains and foul odors is unacceptable.
Take back control of your company and business, protect employees' and customers' health, and prevent losses due to damage and contamination. Contact Pest Control Consultants for an inspection and create a custom treatment plan to exclude and prevent pests.
It's not wise to skip out on scheduling commercial pest control services for your facility or building. Doing so could lead to expensive fines, extensive structural damage, or lost inventory. Pests can destroy reputations, chase away business, and repeatedly infest a property without effective, professional pest control solutions. Let the pros at Pest Control Consultants eliminate pesky invading critters, so you can focus on delivering much-needed goods and services to the community.
Contact Pest Control Consultants for a free service quote and discover what service package works best for you, whether you need same-day or quarterly treatments.
What Do Bed Bugs In Wisconsin Dells Look Like?
Probably one of the worst insect pests around is the bed bug. Due to increased travel, use of hotels, public transportation, and worldwide shipping, bed bug infestations are on the rise. These insidious parasites can hide in luggage, slip into packages, and enter your home without being detected. It's easy for these pests to hide in and around mattresses, headboards, or other nooks and crannies inside your house.
Pest Control Consultants understand how frustratingly difficult it is to eliminate bed bugs from your home. We provide targeted services focusing solely on bed bugs to exclude this terrible pest. Be advised it may take multiple treatments using heat or a chemical-based product to eradicate this insect. These parasites can hide out for months without feeding on a host, only to emerge and start up another infestation.
Why is it essential to accurately identify bed bugs if you see insects in your home? Bed bugs are tough to eliminate and can spread quickly without professional exclusion. You most likely have bed bugs if insect invaders match the following description:
Bed bugs are often mistaken for fleas or other insect pests. They are reddish-brown and have oval-shaped bodies.
These insect pests have six legs, measure about 1/4 inch long, and produce a sweet, musty odor.
You can find these parasites hiding in upholstered furniture, secondhand items, box springs, or behind baseboards and narrow cracks or crevices.
These pests leave behind pepper-like fecal spots that are red, black, or dark brown.
You may notice molten exoskeletons, eggs, and live or dead insects.
As soon as you notice bed bugs in your home, or wake up to itchy bites on your torso, arms, or legs, get help. Call Pest Control Consultants to inspect your home for bed bug pests and swiftly administer a bed bug pest control and treatment plan.
Don't toss and turn or fear going to bed because of bed bugs. Pest Control Consultants can help exclude bed bugs and prevent their return.
Four Benefits Of Professional Disinfection Services In Wisconsin Dells
Despite advancements in modern society, the threat of disease from pests and unplanned events can take place. An outbreak of a virus or bacteria can be a monumental setback. When people get sick, it can shut down businesses, slash work hours, or leave people to shelter in place. The best game plan is to stay prepared and take preventative measures to keep those around you healthy and safe.
Pest Control Consultants provides professional disinfection services to eradicate many common types of pathogens that people encounter daily. Food services, warehouses, healthcare facilities, and schools demand a level of cleanliness to operate. It's ideal to have professional disinfection services to thoroughly clean a property at least twice annually. For a higher standard of cleanliness, opt for monthly or quarterly disinfection services.
Why are professional disinfection services worth it as a homeowner or business owner in Wisconsin Dells? There are more than a few reasons why you might find it beneficial to seek dependable pest control and disinfection services. Consider the following:
Stay prepared for the upcoming cold and flu season and reduce barriers to productivity and lost work hours.
Be ready for health inspections and deter pests from hanging around.
Feel more confident that your facility has the highest standard of cleanliness available. Pest Control Consultants uses EPA-approved, high-strength products and techniques to eliminate pathogens.
Protect consumers' and employees' health and safety, and maintain immaculate inventory and a clean operating environment.
Maintaining a good reputation and ensuring the health and hygiene of anyone who comes in contact with your facility, company, or business is of the utmost importance. A pest infestation can bring unwanted pathogens into your commercial property and destroy a good reputation overnight.
Get the best defense against pathogens and choose Pest Control Consultants to render professional disinfection services to protect your commercial property.
How Wisconsin Dells Homeowners Can Prevent Termite Infestations
Each year, termites are responsible for approximately five billion dollars in damage to homes across the country. They are lured by several different key factors, all of which Wisconsin Dells homeowners can try to eliminate in order to protect their homes. The steps that they can take include:
Address moisture issues. Lots of termites are lured by the presence of moisture and its impact on wood. If water damage occurs, rectify it immediately. It's also important to proactively look for leaks or condensation build-up and rectify these issues.
Keep wood in good condition. Make sure that decks and porches are always properly painted or stained. If any wooden areas of sheds or homes are in poor condition, consider replacing them if possible.
Avoid wood-to-foundation contact. Never let any wood products come into direct contact with the foundation. This includes actions like maintaining at least 20 inches of protective barrier between mulch and your home's base.
Bring in professional help. Termites are no match for professional treatments. A pest control expert will be able to perform annual inspections, apply proactive treatments, and in some cases, treat homes before they're even built.
For more information on impactful termite services in Wisconsin Dells, call Pest Control Consultants today.
Take Back Your Summer With Pro Mosquito Control In Wisconsin Dells
Each summer, mosquitoes appear around Wisconsin Dells properties and can make your life very difficult. They are looking for people to bite, which can leave you with uncomfortable bites, but they can also be harmful to your well-being. In order to enjoy a bite-free summer experience, consider professional help from Pest Control Consultants. We are a service-oriented company that is dedicated to your satisfaction. All of our comprehensive property inspections are free and designed to get to the root of why you're having mosquito problems to start.
In order to provide quick relief from mosquitoes, we use our backpack mister to target these breeding and nesting sites quickly. These treatments can target both adults and eggs. We often recommend monthly services in order to provide continued support; however, we also offer one-time visits as a way to make your special events a little more comfortable as well. As part of our service, we also provide information on ways to mitigate mosquito exposure between our visits with subtle yet effective habit changes. For more information on mosquito control in Wisconsin Dells, call us today.
How Mice Get Inside Wisconsin Dells Properties And How To Stop Them
Mice are experts at getting inside Wisconsin Dells properties. Here are some of the factors that attract them and how they get inside:
Cracks and crevices: One of the easiest ways for mice to get into properties is by fitting through flaws that exist in foundations and around doors and windows. They can fit through dime-sized openings, so very few gaps are actually a challenge for them. Mice may also use gaps around siding and bulkheads to their advantage.
Looking for food and water: Mice are very likely lured into properties because they sense food or leaks. When people have trash accumulating or bits of food around their properties, mice can tell.
The promise of shelter: These rodents also need a place to nest, so if a property has quiet and secluded areas, like crawl spaces and basements, mice may seek them out as a potential place to settle.
The most impactful way to stop mice from getting inside properties is with professional help from Pest Control Consultants. We use the most up-to-date practices and methods in order to fully eliminate mice safely. For more information on mouse control, call us today.
How To Prevent Spiders Around Your Wisconsin Dells Property
Spiders are lured to Wisconsin Dells property like yours when they're seeking food sources, quiet areas, or moisture. In order to keep them away, try these tips:
Look for leaks. Spiders are largely attracted to the presence of moisture, so start by assessing the outside of your property for leaky areas. If you find troublesome pipes or hoses, fix them. You'll also want to keep your gutters cleared. Indoors, treat leaks the same and also keep crawl spaces and basements well ventilated.
Maintain a tidy yard. These are pests that are lured to brush, so try to get rid of yard clutter like hedge trimmings, fallen branches, twigs, and leaf piles. Part of keeping your yard tidy is going to entail storing firewood at least 25 feet away from the home too.
Be conscious of trash. Food sources, both inside and outside, are big attractions for the pests that spiders eat. If you keep trash bins outside, make sure that they always have a proper lid, take the trash out on a routine basis, and clean bins out to reduce food residue.
Seek professional guidance. The best approach to deterring spiders and the pests they eat is with professional help on a routine basis.
To learn more about spider prevention services, call Pest Control Consultants today.
Request Your Free Inspection
Complete the form below to schedule your no obligation inspection.