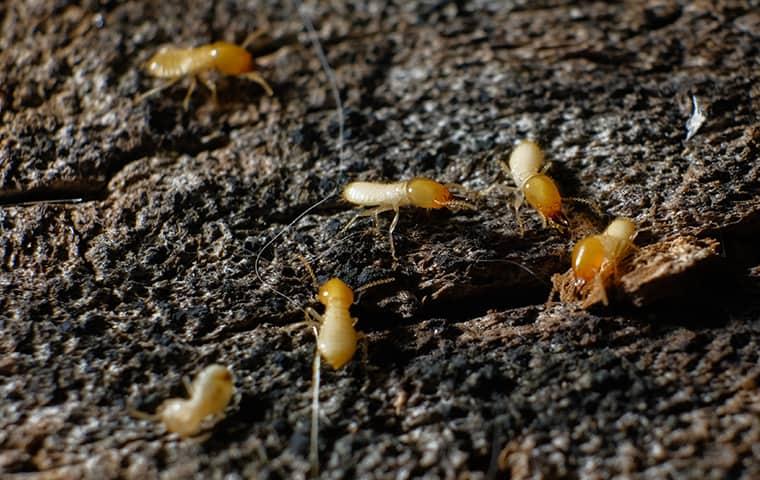 Of all the creepy-crawly creatures making their summer debut, termites may be the worst.

In the summer, termites have passed their swarming phase and enter their nesting phase, where new colonies begin to dig deep roots into viable habitats. Warm, sunny days and periods of high humidity make the spread of these pests a common occurrence, especially for the notorious drywood termites. If termites aren't prevented from entering a home, they may completely devastate a property to the point of total collapse.
What Do Termite Infestations Look Like?
The effects of an infestation largely depend on the species of termite involved. Termites eat the insides of walls, floors, and ceilings, causing them to crack or buckle. What may appear to be water lines or rot may, in fact, be severe termite damage. For homes that termites infest, repair costs may measure in the hundreds if not thousands of dollars.

The best method of safeguarding your house from termite damage is to prevent them from being attracted to certain conditions on your property entirely.
Prevention Steps for Homeowners in the Dixon Area
Several preventative measures exist for homeowners looking to keep termites at bay during the height of their peak season and beyond.
Keep all stumps, firewood, and organic material piles maintained or dispose of them.

Instead of using mulch around the foundation of your house, consider using pea gravel or decorative stones. This method keeps your home looking clean and termites unwilling to travel over them.

If your home is prone to humidity, consider investing in a dehumidifier or other drying agent.

Install weather stripping around windows and doors to keep water from soaking the wood, inviting termites inside.
While these preventative steps may help you avoid termites, they will not guarantee against infestations. Professional treatments remain the safest, cheapest, and most effective steps you can take towards a termite-proof home, now and in the future.
Pest Control Consultants is your One-Stop Shop
Call Pest Control Consultants today to find out more about the types of treatments we can tailor to meet your unique pest control needs. Our Boracare liquid treatments don't break down over time and ensure that your new construction will maintain its termite barrier for years to come.

Also, utilizing the incredible strength of Termidor, we create an undetectable termite barrier around your home to prevent infestation. Should termites breach your property, pheromone, and in-ground termite treatments eliminate entire colonies, with specialized baits that target termite queens.

To learn more about what we offer, request your free inspection today. We are your one-stop termite safety shop here at Pest Control Consultants, and we're ready to help.