When you're dealing with a flea infestation, it's not a fun affair! They can take a toll on your quality of life, as well as the experience of your loved ones and pets. Instead of letting them downgrade your lifestyle, remove them with help from our pros here at PCC. We're here to help you win the battle against fleas.
In addition to taking advantage of our professional services for flea control in St. Charles, a comprehensive understanding of the situation at hand is imperative to fending off future infestations. Read through this article to learn everything you need to know about effective pest control in St. Charles, then give us a call to implement the professional treatment strategies your property needs. Before you know it, worrying about fleas will become a thing of the past.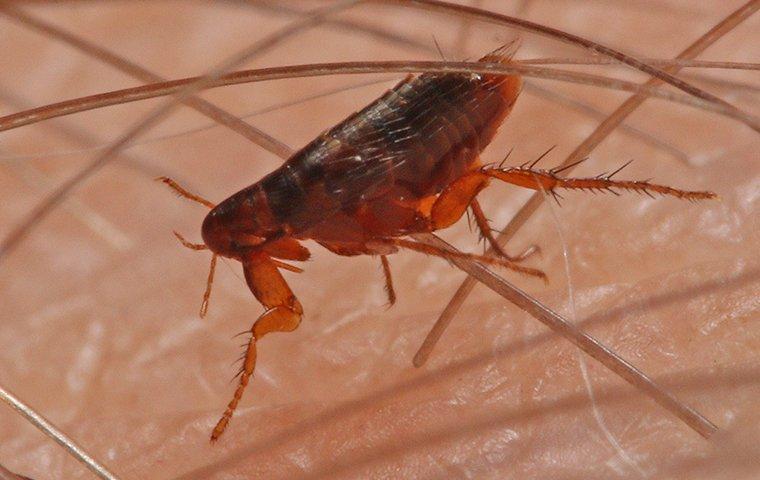 The Flea Life Cycle: Understanding Their Stages
Understanding the life cycle of fleas can help you know what's going on when they're on your property. Let's take a quick look at the four stages of the flea life cycle.
The entire cycle can last anywhere from a couple of weeks to many months, depending on crucial factors like the levels of heat and humidity. Fleas start as eggs, hatching in under two days under warm and humid conditions. They become larvae, crawling and searching for food for approximately five days to two weeks. The pupal stage follows, morphing into adults in one to two weeks after that. Adult fleas are capable of reproduction, with females laying up to 50 eggs at a time over a period of three months and up to 4,500 in their lifetime.
You can call for a flea removal service at any point, and our technicians will take care of fleas at every stage of life. You can count on our comprehensive approach to pest management to cater to the needs of your property in the best possible way. Give us a call to schedule your appointment today.
The Hidden Dangers Of Fleas: Understanding The Hazards
Unfortunately, fleas in St. Charles can be more than just annoying; they have the potential to spread a variety of diseases, pathogens, and other ailments through their bites, including:
Murine Typhus
Tungiasis
Tularemia
Bartonellosis
Tapeworm
Anemia
When it comes to health concerns like these, flea extermination becomes more than just a task; it's a restorative treatment that brings health and safety back to your property.
Total Flea Elimination: Call The Pros Right Away!
We're here to provide your property with the services it needs for local flea control. If you find these insects on your property, reach out to us as soon as you notice them. These insects jump long distances, which differentiates them from other insects you might encounter.
As we noted before, a flea infestation is no joke. In order to protect your property from fleas, it's imperative to reach out to us as soon as indications of them become apparent.
Call us as soon as you see any of the following common signs of fleas:
You see very small jumping insects on your property.
Your pets are scratching or grooming themselves excessively.
Your pets begin experiencing fur loss.
You find flea bites on household members or your pets.
You see flea feces (small, dark specks) on pet bedding and carpets.
The sooner you call us, the sooner we'll be able to stop the flea infestation from spreading. When you're ready to put fleas in their place, reach out to PCC. We're happy to help!
Effective Flea Prevention: Tips For A Flea-Free Home
In order to avoid having to call St. Charles flea exterminators again, take note of the following preventative tips.
These measures can make a meaningful difference in the number of fleas you find on your property in the future:
Bathe and groom pets regularly.
Keep dogs leashed when outdoors.
Keep pets on year-round flea medications.
Vacuum frequently.
Wash bedding regularly.
Maintain your lawn.
Address rodent or wildlife populations.
With these tips and our professional services, you can make worrying about flea infestations moot.
Protect yourself, your loved ones, and your pets by contacting our team of experts here at PCC for the flea control services your property needs. We're ready to take on the task, show you what high caliber pest control looks like, and qualify to earn your return business and referrals. Reach out today for help with fleas and to learn more about our residential and commercial pest control services in St. Charles.